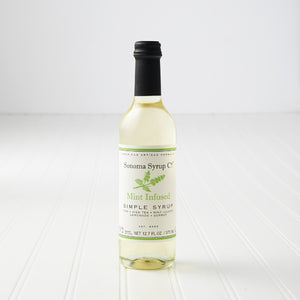 Mint Simple Syrup
 Mint, mehtha spicata, is an ancient herb, going back to the beginnings of history. The greek athletes used mint as an after bath lotion; in the Middle Ages it was used as a cleansing agent, and later to purify drinking water. We infuse with fresh spearmint leaves to give you the true 'only matched by nature / using the real stuff' refreshing mint taste. The classic taste of spearmint was inspired by a large mint patch in our Sonoma Valley garden, capturing the flavor in a bottle, year round.
OUR FAVORITE USES
Vanilla Bean & Mint Lemonade
Drizzle over fresh strawberries
Mint Julep
Mojito
Chocolate Mint Sauce
Mint Glazed Green Beans
Ingredients: Pure cane sugar, filtered water, spearmint leaves, spearmint extract, vitamin C (ascorbic acid).
---