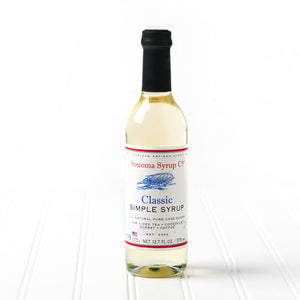 Classic Simple Syrup
An old classic made from pure cane sugar, water, and a hint of vanilla that will blend easily into your favorite drink or recipe. First seen in the 'First American Cookbook' in 1796, simple syrup is a centuries-old culinary ingredient. Simple Syrup is the most universal bar mixer and an essential ingredient for pastry chefs. Use to flavor and sweeten iced or hot tea, iced coffees, party cocktails, flips, frappes, fizzes, and juleps. Use as a base for sorbet, lemonade, or in a pastry.
OUR FAVORITE USES
Iced Tea
Iced Coffee
Espresso Drinks – "sweetener for the coffee purist"
Lime Rickey
Bellini
Mint Julep
Any beverage or culinary recipe calling for "Simple Syrup"
Ingredients: Liquid cane sugar, filtered water, vitamin C (ascorbic acid), vanilla extract.
---