Recipes!
Posted by Grace Edgar on
RECIPE: 1 recipe pasta dough sheets, made from scratch or use fresh pasta sheets from your local specialty food market. You can also find wonderful pre-made ravioli or tortellini. If you can't find pumpkin, try another flavor such as fresh ricotta and spinach. Pasta filling:1 cup Bella Cucina Sweet Pumpkin Pesto1 egg yolk, beaten1 oz. pancetta slices8 tbs. unsalted butter15-20 fresh sage leaves, long stems removedParmesan cheese Roll out the pasta dough into thin sheets or lay one pre-rolled sheet on floured counter and brush lightly with egg yolk. Place one tablespoon every 3 inches in center of dough. Place...
Posted by Grace Edgar on
RECIPE 1 head cauliflower1 jar Bella Cucina Walnut Sage Pesto¼ cup chicken or vegetable broth¼ cup heavy cream1/3 plus 3 tablespoons Parmigiano-Reggiano3 tablespoons breadcrumbs Preheat oven 350°Cut the stem and leaves off the head of cauliflower. Remove the core from the center and discard. Cut the cauliflower into bite size pieces and blanch in boiling salted water until tender, about 4-6 minutes. Drain and pat dry. Place in a 9-inch round buttered ovenproof casserole dish and set aside. In a mixing bowl, combine the pesto, broth, cream and 1/3 cup of the cheese. Pour over the cauliflower. Mix the remaining...
Posted by Grace Edgar on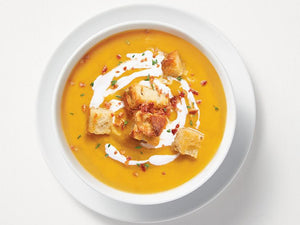 On chilly nights, doesn't this soup sound great? I mean, it has bacon! Courtesy of Food Network Serves: 4 6 tablespoons extra-virgin olive oil1 large onion, sliced2 leeks, halved lengthwise and sliced crosswise into half-moons4 teaspoons fresh thymeKosher salt and freshly ground pepper1 pound sweet potatoes (about 2), peeled and chopped1 pound parsnips (2 to 3), peeled and chopped4 cups low-sodium chicken brothPinch of cayenne pepper, plus more to taste3 slices bacon, finely chopped4 ounces crusty bread, cut into 3/4-inch pieces (about 4 cups)3/4 cup shredded gruyere cheeseCreme fraiche, for topping Preheat the oven to 400˚ F. Line a baking...
Posted by Grace Edgar on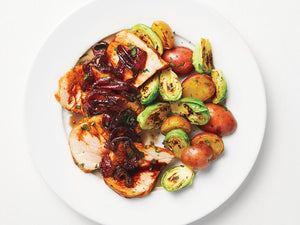 Serves: 4 1 pound brussels sprouts, halved1 pound baby potatoes, halved3 tablespoons extra-virgin olive oil3 cloves garlic (2 smashed, 1 grated)Kosher salt and freshly ground pepper1 pork tenderloin (about 1 1/4 pounds), trimmed1 teaspoon minced fresh rosemary2 small red onions, sliced 1/4 inch thick1/2 cup balsamic vinegar2 teaspoons sugar1 tablespoon chopped fresh parsley Place a rimmed baking sheet on the middle oven rack and preheat to 450˚ F. Toss the brussels sprouts and potatoes with 1 1/2 tablespoons olive oil and 2 smashed garlic cloves in a large bowl; season with salt and pepper. Spread out on the hot baking...
Posted by Grace Edgar on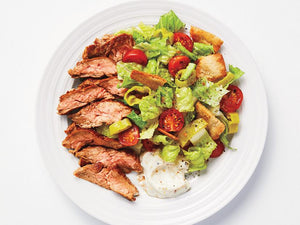 We found this recipe in and fell in love with it. It is so yummy! Thanks Food Network Serves: 4 2 pieces pita bread, torn into 1-inch pieces1/2 cup extra virgin olive oilKosher salt1 4-oz block feta cheese1 small clove garlicGrated zest of 1/2 lemon, plus the juice of 1 lemon2 teaspoons za-atar seasoning, plus more for sprinkling1/4 cup chopped pepperoncini, plus 3 Tbsp. brine2 cups cherry tomatoes, halved1 1/2 lbs. flank steak, halved lengthwise, then crosswiseFreshly ground pepper1 large romaine lettuce heart, chopped Preheat the oven to 400 degrees. Toss the pita pieces with 1 Tbsp. olive oil and...
---