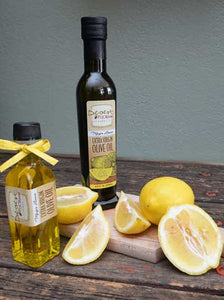 Meyer Lemon Extra Virgin Olive Oil
Meyer Lemon Olive Oil is our top favorite! After infusing our organically grown EVOO with Meyer lemons, we help you to take Dad's grilled chicken and Grandma's lemon poppyseed muffins to the next level. The flavor comes from the rind of the lemons, creating a very rich lemon infusion that you will love!
Pair with any of the fruit Balsamics or even just try it on its own!
Ingredients: EVOO, Meyer Lemons
---